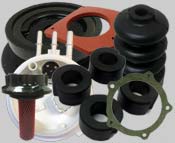 Elder Rubber, Inc. is a wholesale manufacturer and distributor of custom rubber & plastic products and aftermarket automotive plastic & rubber components.
For over 50 years we've been providing custom, quality rubber components including varying sizes of o-rings, grommets, bushings, duckbill check valves, and brake system parts. We strive to blend a tradition of competitively-priced quality products with a commitment to serve the ever expanding needs of a changing, diversified marketplace.
In addition to our standard catalog of O.E. product, we also offer custom tooling for your particular specifications and requirements. We will do everything in our power to find the right part for you, or in some cases Elder Rubber can custom manufacture it.

Elder Rubber offers extrusion, die cut, lathe cut, rubber molding, and rubber bonded to metal services and customized applications to better fit any and all requirements.