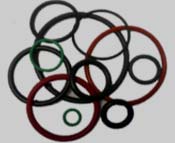 Elder Rubber, inc. is a distributor of industrial & military o-rings
and backup rings that can supply you with all elastomers
(silicone, viton, buna, nitrile, SBR, Vamac, fluorosilicone, EPDM).
An o-ring is a torus, or doughnut shaped object, with a circular cross section. Usually made from an elastomer, although such materials as metal or plastic are sometimes used. All sizes are available in various elastomers: Silicone, EPDM, Neoprene, Viton, Buna, Nitrile and Teflon.
Our military o-rings fully meet the required military regulations and range in a variety of inner diameters, outer diameters, and groove widths.
Standard O-Ring Size Chart

Elder Rubber, Inc. is a leading o-ring manufacturer and o-ring supplier.
We offer more than 50 years of service and experience in industrial &
military o-ring distribution, in addition to O.E.M markets.

We can customize your o-rings to any specification. Contact us today!
Elder Rubber, Inc. custom o-ring products are affordable, durable, and eco-friendly!
Check out a few of the products we currently offer....


We manufacture & design custom products in varying types, shapes, and specifications to meet your needs. Contact us for more information on your custom product requirements.