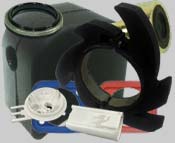 Elder Rubber supplies & warehouses large quantities of rubber components. We offer a variety of rubber products including bushings, o-rings, duckbill check valves, grommets along with many aftermarket brake system parts.
We manufacture custom rubber products in varying types, shapes and specifications to meet your application and industrial needs. We provide custom tooling for virtually any rubber or plastic product to meet your specifications.
Elder Rubber offers extrusion, die cut, lathe cut, rubber molding, and rubber bonded to metal services and customized applications to better fit any and all requirements.

Below are some examples of our rubber and plastic component manufacturing capabilities.
Custom Products Supplied by Elder Rubber, Inc:
In addition to the most extensive inventory and standard catalog of O.E. product,
Elder Rubber, Inc. offers custom tooling for particular specifications & requirements.
Contact us for more information on your customized rubber & plastic product application.