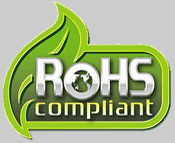 The RoHS directive aims to restrict certain dangerous substances commonly used in electronics and electronic equipment.
Any RoHS compliant component is tested for the presence of Lead (Pb), Cadmium (Cd), Mercury (Hg), Hexavalent chromium (Hex-Cr), Polybrominated biphenyls (PBB), and Polybrominated diphenyl ethers (PBDE).
For Cadmium and Hexavalent chromium, there must be less than 0.01% of the substance by weight at raw materials level.
For Lead, PBB, and PBDE, there must be no more than 0.1% of the material, when calculated by weight at raw homogeneous materials.
Any RoHS compliant component must have 100 ppm or less of mercury and the mercury must not have been intentionally added to the component.
What is RoHS?
RoHS is the acronym for Restriction of Hazardous Substances. RoHS, also known as Directive 2002/95/EC, originated in the European Union and restricts the use of specific hazardous materials found in electrical and electronic products. All applicable products in the EU market after July 1, 2006 must pass RoHS compliance.
What are the restricted materials mandated under RoHS?
The substances banned under RoHS are lead (Pb), mercury (Hg), cadmium (Cd), hexavalent chromium (CrVI), polybrominated biphenyls (PBB), polybrominated diphenyl ethers (PBDE), and four different phthalates (DEHP, BBP, BBP, DIBP).
Why is RoHS compliance important?
The restricted materials are hazardous to the environment and pollute landfills, and are dangerous in terms of occupational exposure during manufacturing and recycling.
Elder Rubber Inc.'s RoHS Compliance Statement:
Elder Rubber, Inc. is compliant with the RoHS directive given by the European Union and are working with our customers to ensure that their particular RoHS requirements are being met.